Having caught my first Ditto this morning, I thought I would let everyone know ubout the new arrival incase they missed it like I did.
Pokémon trainers won't be able to see the new creature on the map as it is hiding in plain sight, mimicking any other monster in the game
Pokémon Go has finally given players a big reason to come back to the game: the introduction of the first new Pokemon since it launched back in July.
Pokémon trainers can now catch Ditto, an amorphous blob that can transform into any other Pokemon using its signature move "mimic". But there's a catch.
You won't see Ditto on the world map, the overview screen where players see which Pokémon are around them. That's because it's hiding in plain sight, disguised as other Pokémon. In other words, that Ratatta or Pidgey you wouldn't normally bother with? If you catch it, it might be a Ditto.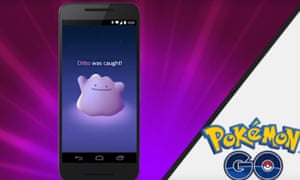 If someone else nearby you has caught the Ditto in the area already, it will show up marked in its true form.
Once you've caught Ditto, it acts largely like you'd expect. You can take it to a Pokémon gym, where it will transform itself into a copy of the first Pokémon you fight, stealing its moves. Unless it's another Ditto, in which case both blobs will sit there, uselessly blobbing at each other with a basic attack.