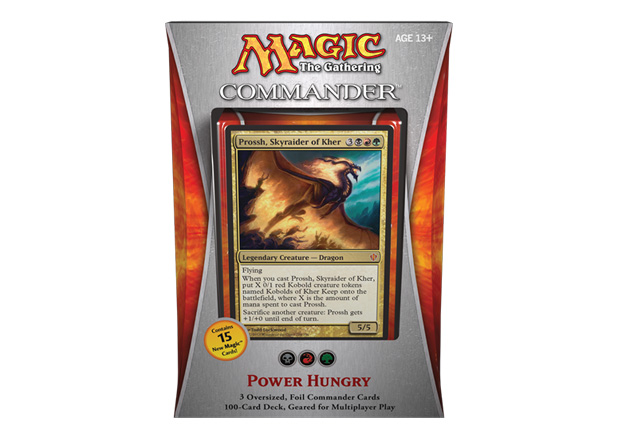 Commander - Prossh, Skyraider of Kher
Main Deck
99 cards Commander
1 Akoum Refuge
1 Command Tower
1 Evolving Wilds
7 Forest
1 Golgari Guildgate
1 Golgari Rot Farm
1 Grim Backwoods
1 Gruul Guildgate
1 Jund Panorama
1 Kazandu Refuge
1 Khalni Garden
1 Kher Keep
1 Llanowar Reborn
7 Mountain
1 Opal Palace
1 Rakdos Guildgate
1 Rupture Spire
1 Savage Lands
6 Swamp
1 Temple of the False God
1 Terramorphic Expanse
1 Vivid Grove
39 lands
1 Brooding Saurian
1 Capricious Efreet
1 Charnelhoard Wurm
1 Deathbringer Thoctar
1 Deepfire Elemental
1 Elvish Skysweeper
1 Endless Cockroaches
1 Endrek Sahr, Master Breeder
1 Fell Shepherd
1 Goblin Sharpshooter
1 Golgari Guildmage
1 Hooded Horror
1 Hua Tuo, Honored Physician
1 Hunted Troll
1 Inferno Titan
1 Jade Mage
1 Ophiomancer
1 Quagmire Druid
1 Sakura-Tribe Elder
1 Scarland Thrinax
1 Sek'Kuar, Deathkeeper
1 Shattergang Brothers
1 Silklash Spider
1 Sprouting Thrinax
1 Stalking Vengeance
1 Stronghold Assassin
1 Terra Ravager
1 Viscera Seer
1 Walker of the Grove
1 Wight of Precinct Six
30 creatures
1 Armillary Sphere
1 Blood Rites
1 Carnage Altar
1 Curse of Chaos
1 Curse of Predation
1 Curse of Shallow Graves
1 Dirge of Dread
1 Fecundity
1 Foster
1 Furnace Celebration
1 Goblin Bombardment
1 Jar of Eyeballs
1 Jund Charm
1 Mass Mutiny
1 Night Soil
1 Obelisk of Jund
1 Plague Boiler
1 Primal Vigor
1 Reincarnation
1 Restore
1 Rough // Tumble
1 Sol Ring
1 Spine of Ish Sah
1 Spoils of Victory
1 Sudden Demise
1 Swiftfoot Boots
1 Tempt with Vengeance
1 Tooth and Claw
1 Vile Requiem
1 Widespread Panic
30 other spells
This Jund deck features Prossh, Skyraider of Kher as its commander, and many of the cards revolve around sacrificing your creatures to gain a benefit.
You can sacrifice creatures to Fell Shepherd in order to significantly weaken or kill one of your opponent's creatures, and Sprouting Thrinax is Fell Shepherd's best friend. Each time you do, the sexy new frame alternate art Goblin Sharpshooter will be able to ping another creature or player. If one of your foes has more creatures on the battlefield than you it's okay: Hooded Horror will still be able to get in and deal damage to them.
Curse of Chaos, Curse of Predation, and Curse of Shallow Graves can buy you time to reach the late game when your awesome cards like Shattergang Brothers go online, which is especially fun when you control a Spine of Ish Sah. Ophiomancer is another creature that will slow down your rivals and can gain you a significant amount of card advantage with the deck's many sacrifice outlets. As the game progresses longer, Terra Ravager can become a massive threat. Infermo Titan can deal a lot of damage if left unchecked and Sudden Demise can blow up all the creatures of whatever color is giving you the most trouble on the battlefield.
Primal Vigor doubles the amount of creature tokens you create with your commander or from abilities on you other creatures such as Jade Mage. Restore will steal one of your opponent's special lands or recoup one of your own. Tempt with Vengeance can create a massive horde of 1/1 red Elemental creature tokens with haste for you to take out one of your rivals with. Although the deck can have problems against control players, Widespread Panic will allow you to gain card advantage. Grim Backwoods allows you to gain value whenever one of your adversaries manages to blow up one of your threats.
Hua Tuo, Honored Physician, Spoils of Victory and Reincarnation are three interesting reprints in this deck, all of which are making their debut in the modern card frame. There's a lot of fun interactions to discover and pull off against your opponents in "Power Hungry," and I am looking forward to getting my hands on this "Commander (2013 Edition)" deck.