Now that we have our first Warhammer Conuest champion - Nick Lewis and we have begun to use some cust5om decks, I thought it might be time to start talking about the expansions, first up Howl of Blackmane...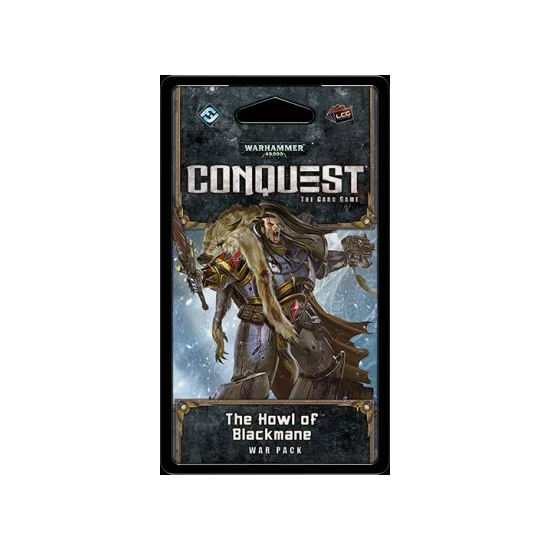 "So long as there remains one who still rages in the name of justice and truth, the galaxy shall yet know hope." –Ragnar Blackmane Hunt across the stars of the Traxis sector in The Howl of Blackmane, the first War Pack in the Warlord cycle for Warhammer 40,000: Conquest! The Howl of Blackmaneintroduces a new warlord and a new style of play for the Space Marines with Ragnar Blackmane, a commander of the Space Wolves. In addition to the Space Marines' new warlord, you'll find cards for each faction within this expansion, giving you a closer look at the Tau's hyper-advanced technology, the Dark Eldar's sadistic torture, the Astra Militarum's battle tactics, and more.
This War Pack contains sixty cards, including one warlord with its signature squad and three copies each of seventeen unique cards, giving you a full play set of every unit, support, event, and attachment. Whether you spread the corruption of Chaos, march to war with the Orks, or empower the troops of the Eldar, you'll find the cards you need inside this War Pack. The hunt for your opponent's warlord begins with The Howl of Blackmane!
You can see the cards included in this expansion at www.conquestdb.com along with all the other expansions.