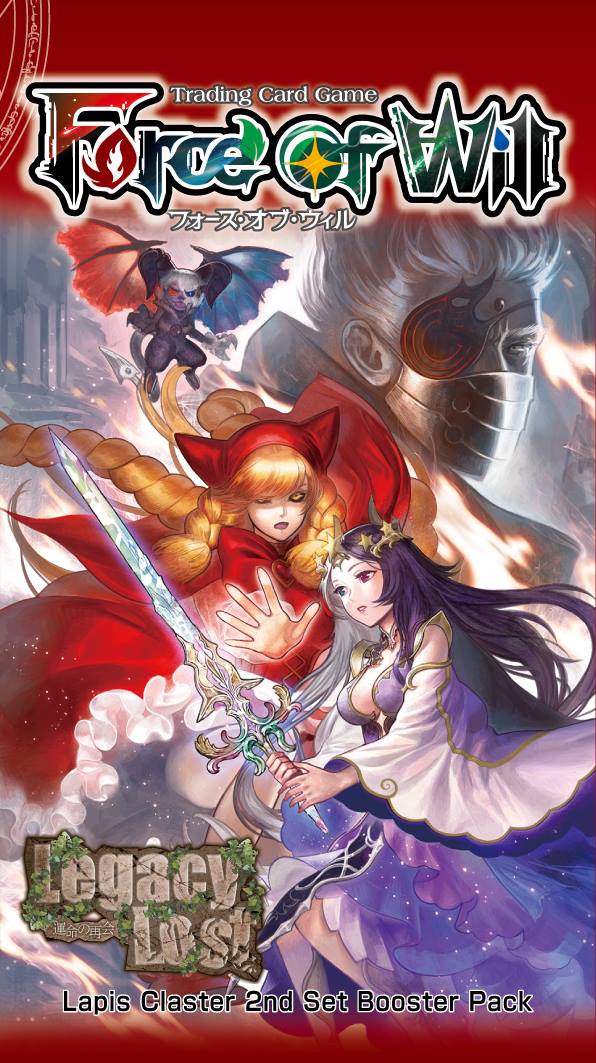 Legacy Lost is the thirteenth Japanese expansion in the Trading Card Game and is the twelfth English expansion.
This is the second set in the Lapis Cluster. It contains 100 cards
5 J/Rulers
10 Super Rares
20 Rares
27 Uncommons
33 Commons
10 Magic Stones
3 Token Cards
Each Box in the expansion contains 36 packs with 10 cards per pack.
Card List
| Card No. | Name | Type | Attribute | Rarity |
| --- | --- | --- | --- | --- |
| LEL-001 | Amaterasu, Guide of Light | Resonator | Light | Super Rare |
| LEL-002 | Amaterasu's Foresight | Resonator | Light | Uncommon |
| LEL-003 | Beast of Holy Light | Resonator | Light | Common |
| LEL-004 | Lumia's Purification | Chant | Light | Rare |
| LEL-005 | Millium's Weapon | Chant | Light | Common |
| LEL-006 | Snow White of the Crystal Apple | Resonator | Light | Rare |
| LEL-007 | | | | |
| LEL-008 | The Seven Dwarves | Resonator | Light | Uncommon |
| LEL-009 | | | | |
| LEL-010 | Bastet, Goddess of Cats | Resonator | Fire | Super Rare |
| LEL-011 | Bastet's Fascination | Chant | Fire | Common |
| LEL-012 | Conjure Time Bomb | Chant (Ancient Magic) | Fire | Uncommon |
| LEL-013 | Invisible Flame | Resonator | Fire | Common |
| LEL-014 | Skyscraper Giant | Resonator | Fire | Uncommon |
| LEL-015 | Time-Guide Admiral, Alfred | Resonator | Fire | Rare |
| LEL-016 | | | | |
| LEL-017 | | | | |
| LEL-018 | Charlotte, Wielder of the Sacred Beast | Resonator | Water | Super Rare |
| LEL-019 | Fishing | Chant | Water | Common |
| LEL-020 | Jiang Ziya, the Fisherman | Resonator | Water | Uncommon |
| LEL-021 | | | | |
| LEL-022 | Rachel, Alhama'at's Advisor | Resonator | Water | Rare |
| LEL-023 | Rachel's Smile | Chant (Ancient Magic) | Water | Uncommon |
| LEL-024 | Reunion of Sisters | Chant | Water | Rare |
| LEL-025 | Fiethsing, The Fate Spinning Winds | Resonator | Wind | Super Rare |
| LEL-026 | Final Breeze | Chant | Wind | Rare |
| LEL-027 | Gale Force | Chant | Wind | Rare |
| LEL-028 | Jack, Climbing the Beanstalk | Resonator | Wind | Uncommon |
| LEL-029 | Luan, Auspicious Beast | Resonator | Wind | Uncommon |
| LEL-030 | Magic Stone Life Form | Resonator | Wind | Rare |
| LEL-031 | Planting Beans | Chant | Wind | Common |
| LEL-032 | Sacred Beast of Wind | Resonator | Wind | Common |
| LEL-033 | Alhama'at's Black Lightning | Chant | Darkness | Uncommon |
| LEL-034 | Death at Midnight | Chant | Darkness | Common |
| LEL-035 | Dimension Dragon, Nidhogg | Resonator | Darkness | Super Rare |
| LEL-036 | Fated Reunion | Chant | Darkness | Rare |
| LEL-037 | Kumomaru | Resonator | Darkness | Uncommon |
| LEL-038 | | | | |
| LEL-039 | Yashahime, First Daughter of the Mikage | Resonator | Darkness | Rare |
| LEL-040 | Yashamaru | Resonator | Darkness | Common |
| LEL-041 | A Rendezvous of Light and Wind | Chant | Light /Wind | Uncommon |
| LEL-042 | | | | |
| LEL-043 | Ammit, Beast of Gluttony | Resonator | Wind /Darkness | Uncommon |
| LEL-044 | | | | |
| LEL-045 | | | | |
| LEL-046 | | | | |
| LEL-047 | Catalyst Spirit | Resonator | Fire /Water | Common |
| LEL-048 | | | | |
| LEL-049 | Curse of the Kyuubi | Chant | Wind /Darkness | Rare |
| LEL-050 | Deceptive Dream | Resonator | Water /Darkness | Common |
| LEL-051 | Demonic Instigator | Resonator | Fire /Water | Common |
| LEL-052 | Divine Beast of Attoractia | Resonator | Light /Wind | Rare |
| LEL-053 | | | | |
| LEL-054 | | | | |
| LEL-055 | Faria's Summon | Chant | Light /Wind | Common |
| LEL-056 | Fiethsing's Monocle | Addition | Light /Wind | Uncommon |
| LEL-057 | Ghost of Attoractia | Resonator | Water /Darkness | Uncommon |
| LEL-058 | Glorius, Masked Crusader | Ruler | Light /Wind | Ruler |
| LEL-059 | | | | |
| LEL-060 | Grusbalesta, Magic Stone Researcher | Resonator | Wind /Darkness | Super Rare |
| LEL-061 | Grusbalesta's Secret Technique | Chant | Wind /Darkness | Common |
| LEL-062 | Prokaryotic Being | Resonator | Fire /Water | Uncommon |
| LEL-063 | Illusion Wizard | Resonator | Water /Darkness | Common |
| LEL-064 | Illusory Projection | Resonator | Water /Darkness | Common |
| LEL-065 | Invading Demon of Water, Valentina | Ruler | Water /Darkness | Ruler |
| LEL-066 | | | | |
| LEL-067 | Kaguya, Lunar Researcher | Resonator | Light /Wind | Super Rare |
| LEL-068 | Kaguya's Moonbeam Butterfly | Chant | Light /Wind | Rare |
| LEL-069 | Lilias Petal, Agent of Salvation | Ruler | Wind /Darkness | Ruler |
| LEL-070 | Lilias Petal's Assistant | Resonator | Wind /Darkness | Common |
| LEL-071 | Lumia, the Fated Rebirth | Ruler | Light /Fire | Ruler |
| LEL-072 | Lumia's Judgment | Chant | Light /Fire | Rare |
| LEL-073 | Magic Rebound | Chant | Water /Darkness | Common |
| LEL-074 | Meeting of Light and Fire | Chant | Light /Fire | Uncommon |
| LEL-075 | Messenger of Lilias Petal | Resonator | Wind /Darkness | Common |
| LEL-076 | Moojdart, Lady of Illusions | Resonator | Water /Darkness | Super Rare |
| LEL-077 | | | | |
| LEL-078 | Crimson Ray | Chant | Light /Fire | Common |
| LEL-079 | Nyarlathotep, the Crimson Radiance | Resonator | Light /Fire | Super Rare |
| LEL-080 | Plot of Water and Darkness | Chant | Water /Darkness | Uncommon |
| LEL-081 | Priest of Divine Protection | Resonator | Light /Fire | Common |
| LEL-082 | | | | |
| LEL-083 | Rune of Sol | Chant (Ancient Magic) | Fire /Water | Common |
| LEL-084 | Runic Commander Demon, Akiot | Resonator | Fire /Water | Super Rare |
| LEL-085 | | | | |
| LEL-086 | | | | |
| LEL-087 | Sol, Hierophant of the Helio Star | Ruler | Fire /Water | Ruler |
| LEL-088 | | | | |
| LEL-089 | Sympathy of Fire and Water | Chant (Ancient Magic) | Fire /Water | Uncommon |
| LEL-090 | | | | |
| LEL-091 | Tuning of Wind and Darkness | Chant | Wind /Darkness | Uncommon |
| LEL-092 | Twin-Headed Dragon | Resonator | Fire /Water | Rare |
| LEL-093 | | | | |
| LEL-094 | Wetlands of Magical Origin | Addition | Wind /Darkness | Uncommon |
| LEL-095 | | | | |
| LEL-096 | Awakened Magic Stone, the Earth | Special Magic Stone | Light /Fire | Rare |
| LEL-097 | Killing Stone | Special Magic Stone | Wind /Darkness | Rare |
| LEL-098 | Magic Stone of Vaporization | Special Magic Stone | Water /Fire | Rare |
| LEL-099 | Pricia's Memoria | Special Magic Stone | Light /Wind | Rare |
| LEL-100 | Remains of Attoractia | Special Magic Stone | Water /Darkness | Rare |